Pints For Prostates
We have created a successful partnership with the national Pints for Prostates program and PA breweries such as Troegs, Sly Fox, Neshaminy Creek, Allentown Brew Works, and Pizza Boy Brewing to find men and educate them about prostate cancer. PA beer is enjoying an incredible surge in diversity and popularity. We appreciate the ability to work with them to help save lives and drink more beer.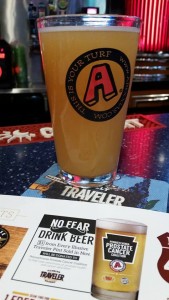 The best way to describe these events are like "non-traditional health fairs." We greet patrons entering the brewery, and our table provides prostate cancer information and the opportunity to interact with PPCC volunteers. As part of our mission to find men in their natural habitats, we take the opportunity to educate everyone in the brewery about prostate cancer.
Of course you don't have to be at a brewery to have this much fun! We've partnered with Arooga's Sports Bars, beer distributors, The Desmond Hotel, and many more prostate cancer supporters to do some really great events!
Contact no.fear@paprostatecancer.org to bring Pints for Prostates to a brewery, brewpub, or venue near you!Are you a brewery, distributor, or venue interested in hosting a Pints for Prostates event? Click here for our information packet!